Pure Cold Pressed Almond Oil - 1/2 Gallon Jug
Regular price
Sale price
$49.99 USD
Unit price
per
Sale
Sold out
Experience the Nutty Alternative to Olive Oil!  We heard from some of our biggest fans & heavy users that they wanted a larger bottle of oil... Well, we're not in the business of disappointing... Go wild with this 1/2 Gallon Jug
If you are searching for all-natural, flavorful additions to enhance your dishes and inspire your cooking endeavors, Fresh Vintage Farms cold-pressed & roasted almond oil is the perfect place to start. Whether you are crafting experimental dishes, or using a traditional recipe, you only want to use the best ingredients to make your culinary dreams a reality. 
Our Favorite For: 
Cooking, Baking, Dipping, Marinating, as a dressing & more
Health Benefits: 
Rich in Vitamin E, B, and P - and also contains high concentrations of monounsaturated fats
Oil Characteristics
Temperature: Fresh Vintage Farms Almond Oil is suitable for medium/high temperatures and has a smoke point around 415 degrees Fahrenheit.
Storage: Store in a cool dry place out of direct sunlight.
Shelf Life: Opened shelf life best used within 6 months. Unopened shelf life of roughly 24 months.
Health Benefits
Almonds naturally have an array of health benefits. Almonds are rich in Vitamin E, B, and P. Almond oil contains high concentrations of monounsaturated fats, similar to olive oil, an also contains linoleic fatty acid. Almond oil is widely used in almost all cosmetic products, and has benefits when used on the skin, in hair, and other cosmetic applications. Almonds are also strongly linked to helping maintain consistent and healthy cholesterol levels.
Additional Ideas
Fresh Vintage Farms Almond Oil is a solid addition in baking, cooking, as a marinade for meat, chicken, and fish, and is delightful to use in baked goods like brownies, muffins, bread, shortbread and more. Our cold pressed and roasted Almond Oil is a unique addition to seasonings, dressings, sauces, and marinades.
Use in Baking: If you are searching for a healthier alternative to butter or other cooking oils in baking, try substituting our Almond Oil for a smooth, nutty flavor addition.
Use in Cooking: Our Almond Oil is perfect for cooking and can be used in sauteing, grilling, deep-frying, and everywhere in between for vegetables, meats, grains, and many more. We also love our Almond Oil for pastas, with grains, and many other applications that call for Olive Oil, Vegetable Oil, Coconut Oil, or butter.
Use as a Finishing Oil: Experiment with our cold pressed and roasted Almond Oil by using as a base in marinades, sauces, dressings, as a dipping sauce and more. Try substituting Almond Oil for Olive Oil when used with a Balsamic for bread dipping.
Use as a substitute for Butter: Replace butter with our roasted almond oil in your pastas, grains, potatoes, or many other butter uses for a uniquely nutty flavor profile.
Process
All Fresh Vintage Farms Artisan Cooking Oils are made using cold-pressed extraction - similar to the machines used to produce Virgin Olive Oil. Although it is more time consuming and expensive to use a cold-press - it is the most effective way to consistently produce artisan oils that are tasty, versatile, and nutritious. 
There is a huge difference between Cold Pressed (Virgin) Almond/Walnut Oil, and the "sweet almond oil" and "sweet walnut oil" you see on shelves at low prices. For starters, they are pressed using expellers at 450+ degrees, which actually removes most nutritional value of these products. Further, many of the cheap nut oils you see available are made from non food-grade nuts that are not designed for human consumption - and through a hyper-refinement process are finished an "acceptable" state.
We take pride in what we sell because it is the same products we use in our kitchens at home.
Nutrition Facts
Amount Per Serving

Serving Size 15mL

Calories 135

Calories from fat 130

Total Fat 15g 19%*

Saturated Fat 1g 6%*

Trans Fat 0g

Polyunsaturated Fat 3g

Monounsaturated Fat 10g

Cholesterol 0mg 0% *

Sodium 0mg 0%*

Total Carbohydrate 0g 0%*

Protein 0g 0%*

Not a significant source of dietary fiber, sugars, vitamin A, Vitamin C, calcium and iron.

*Percent Daily Values are based on a 2,000 calorie diet.
Share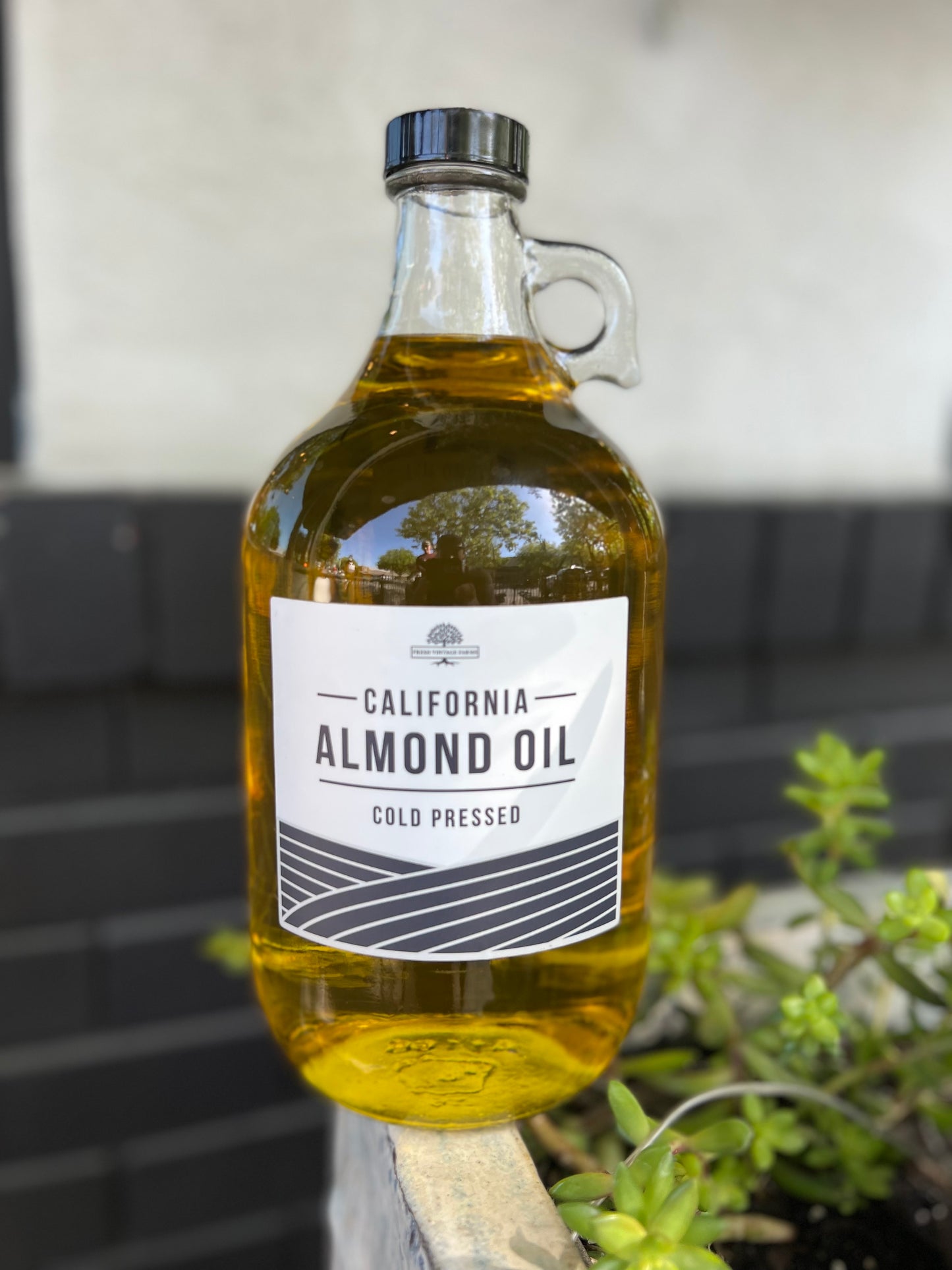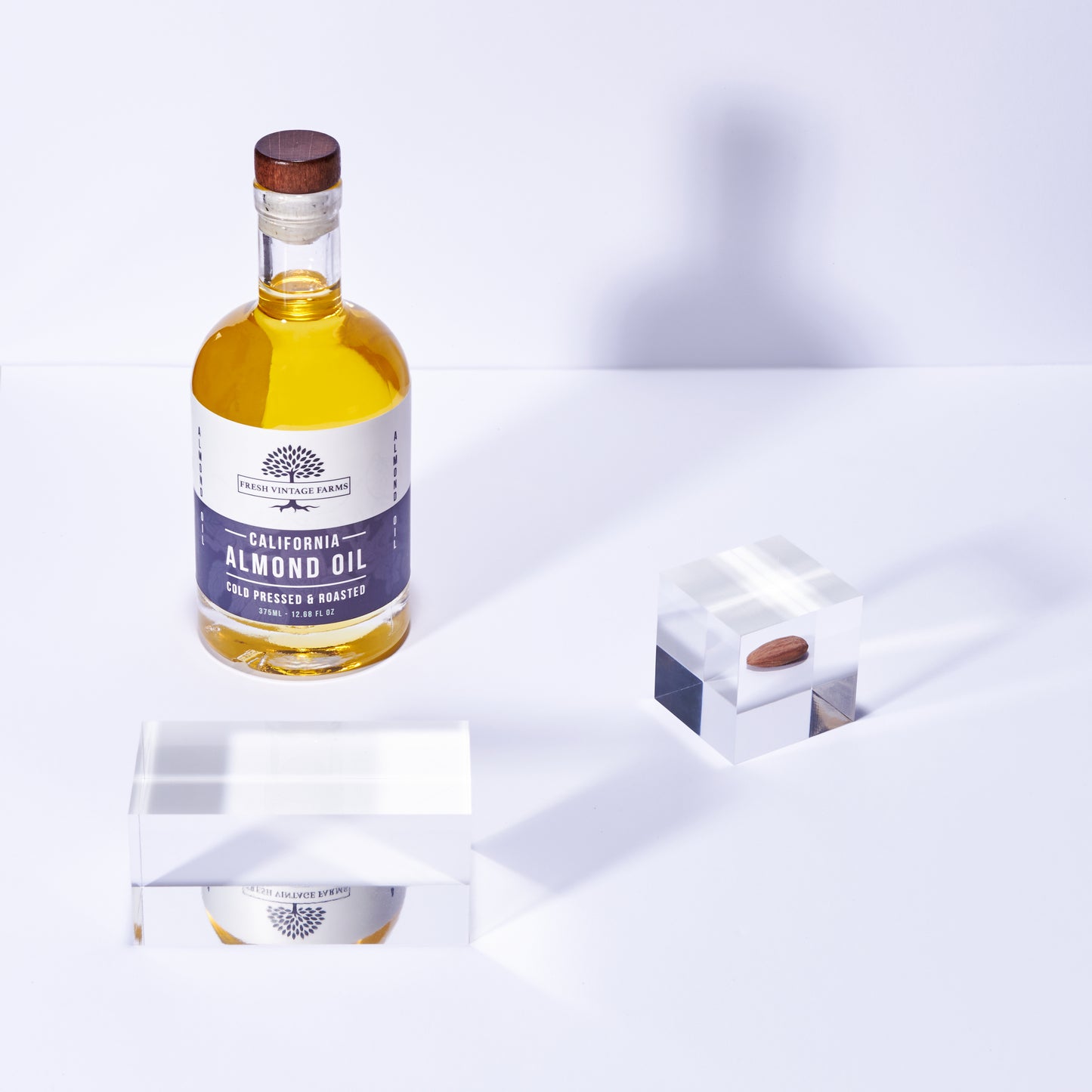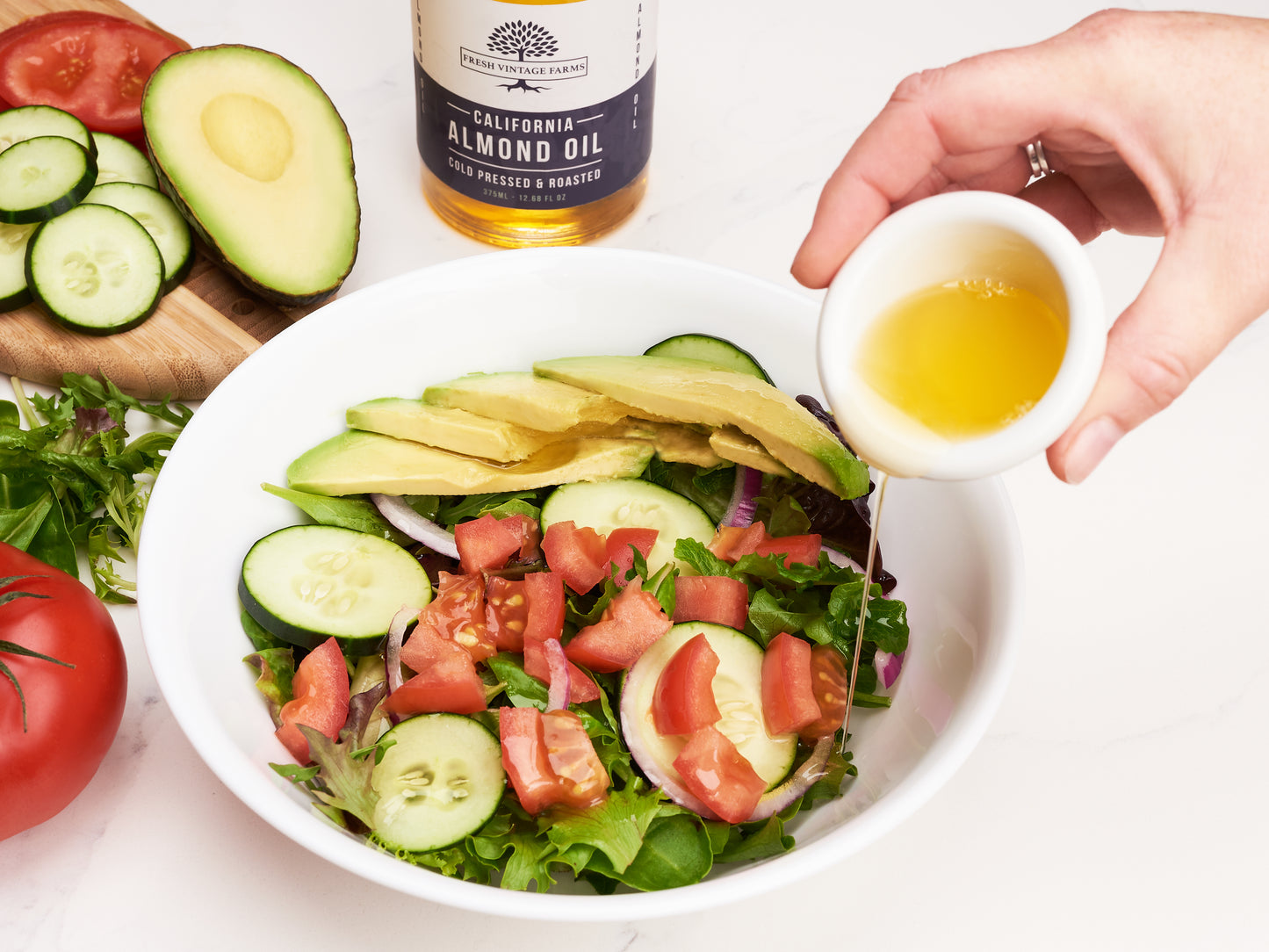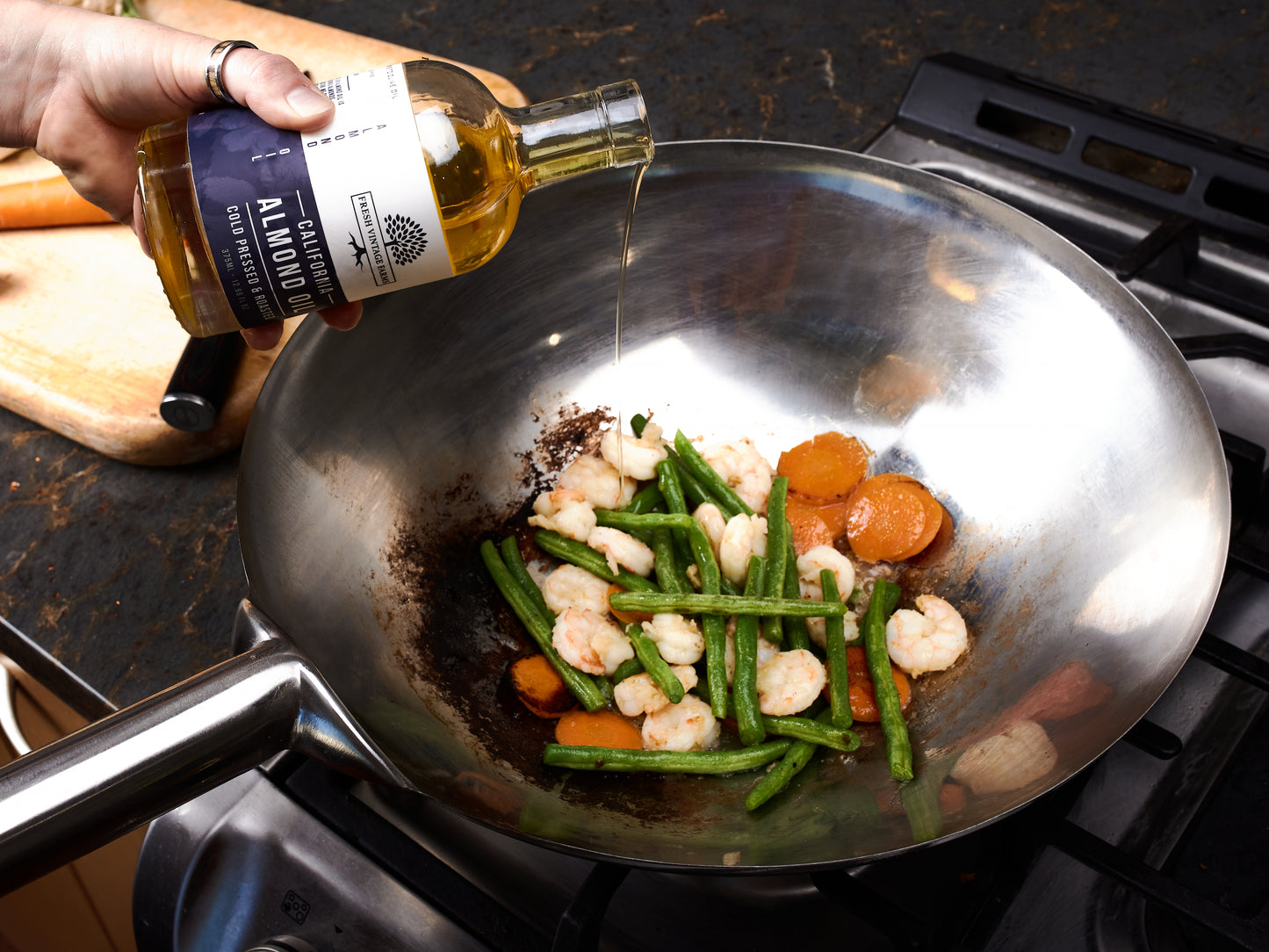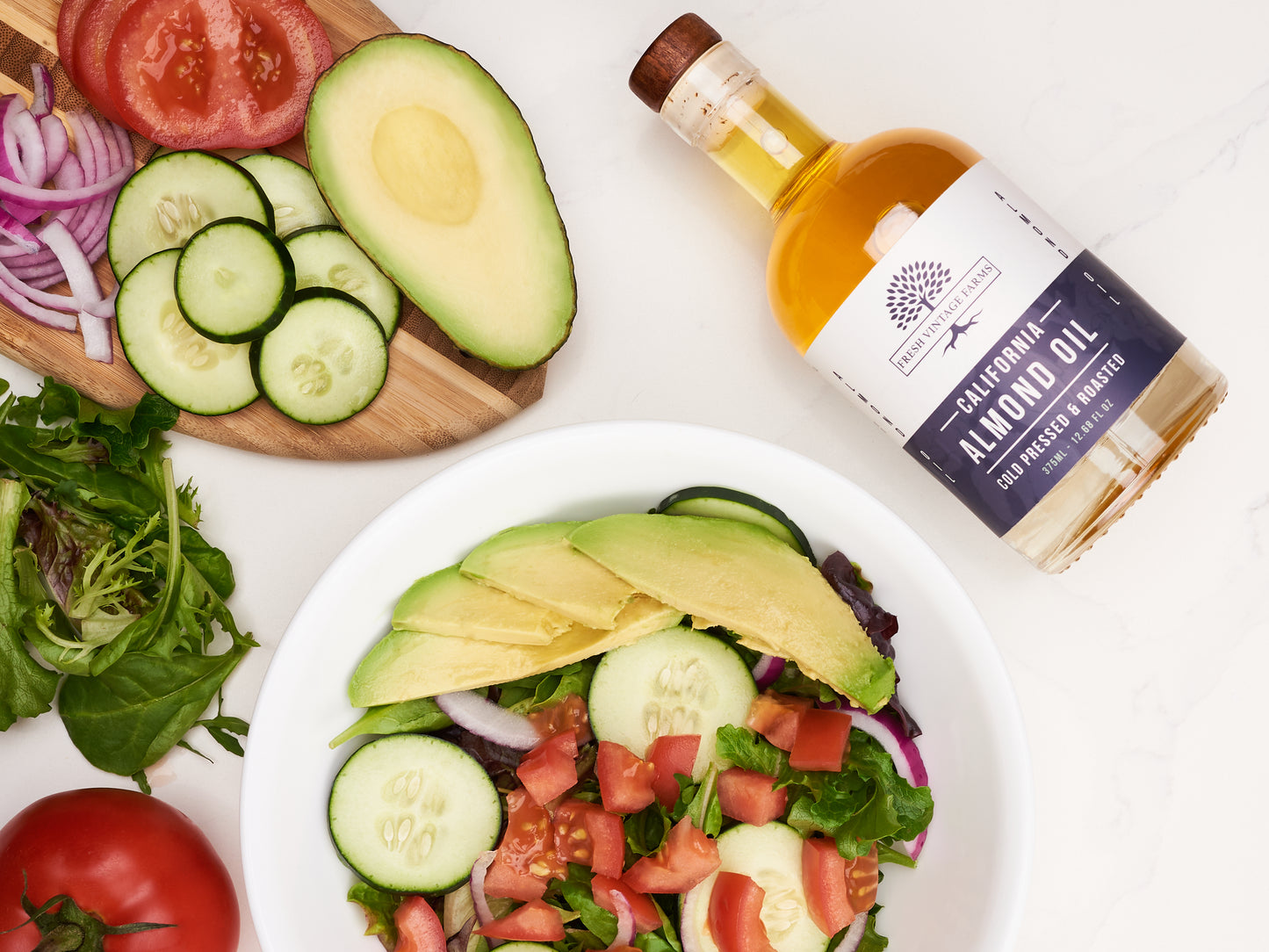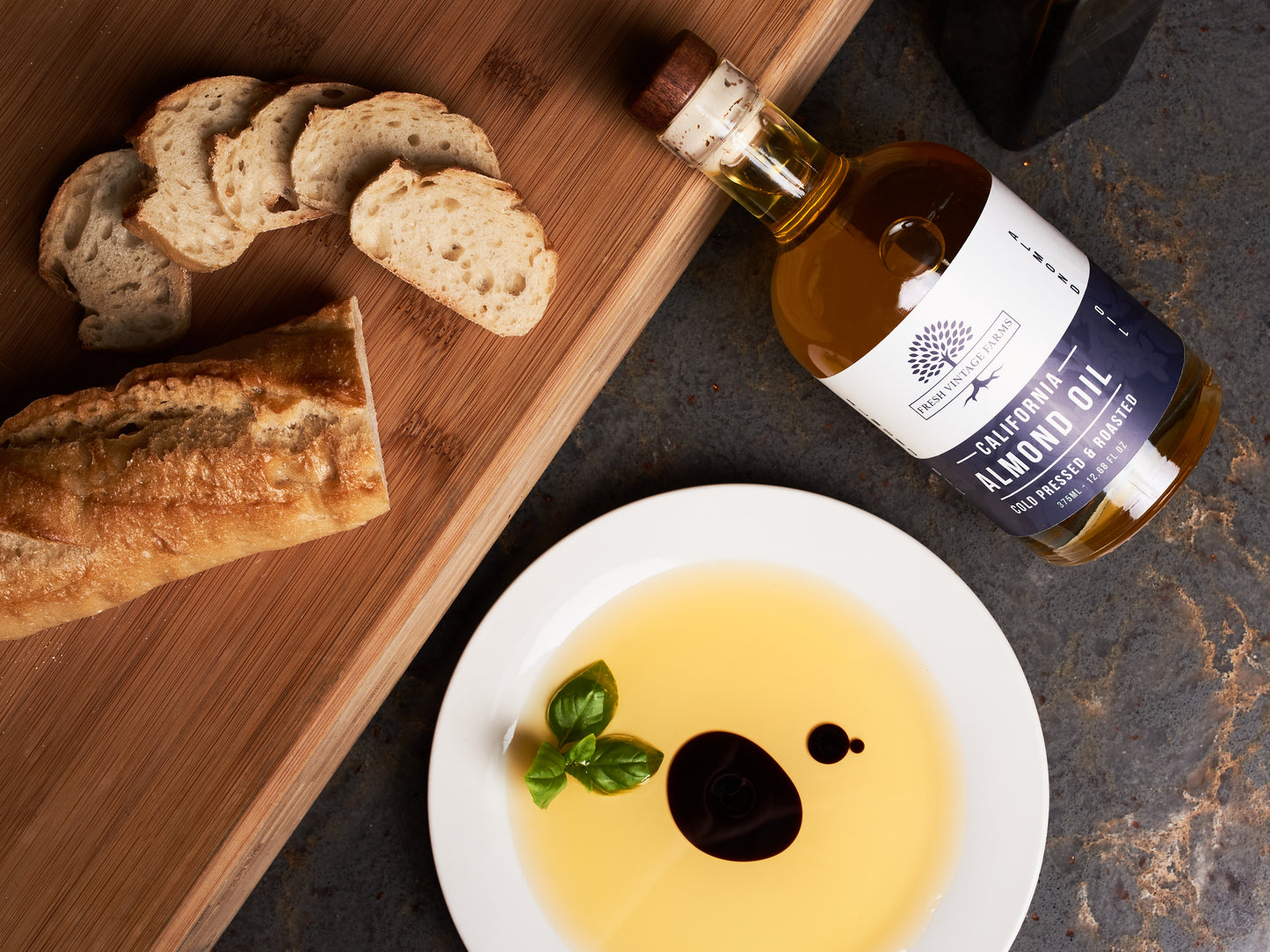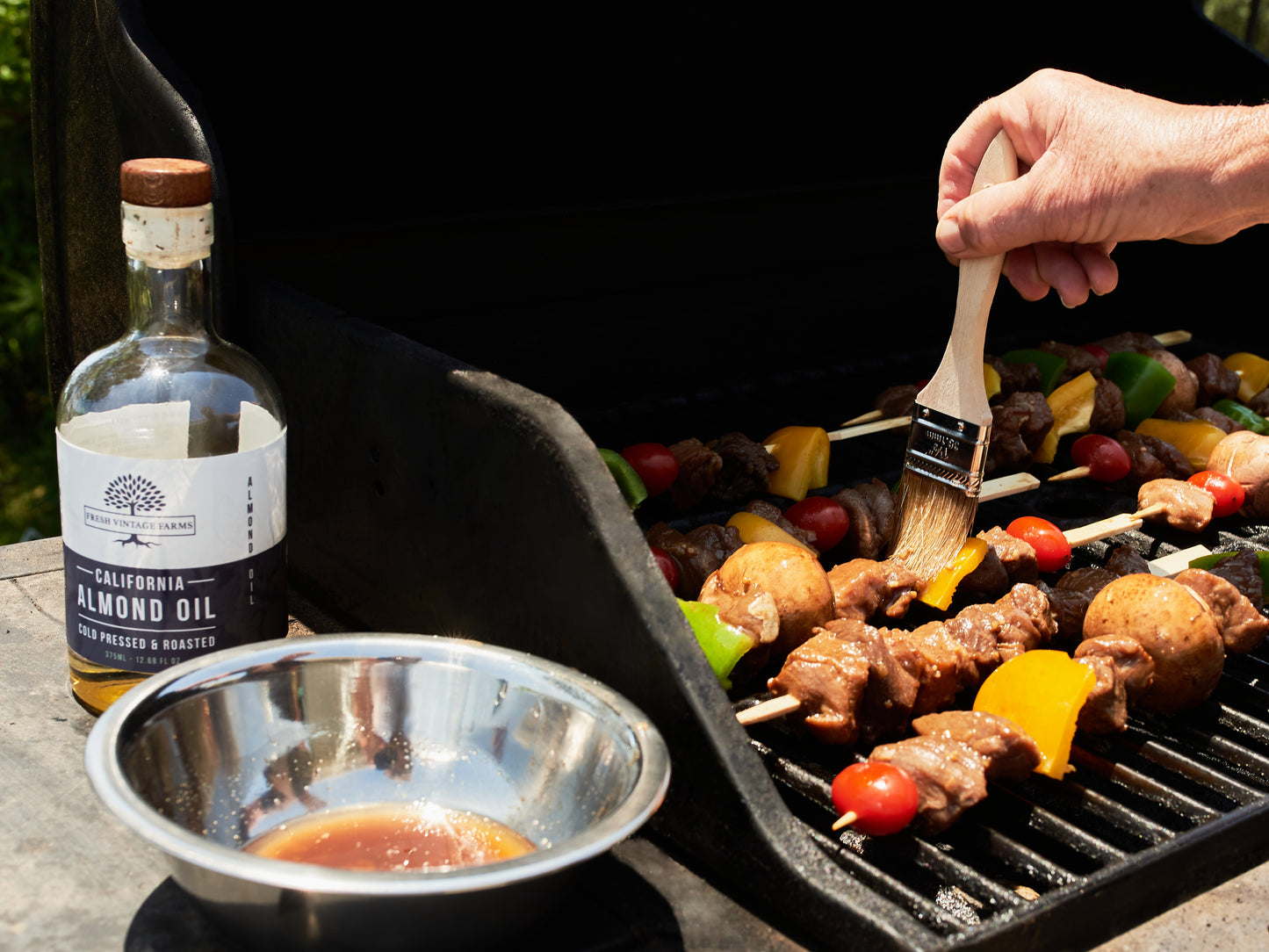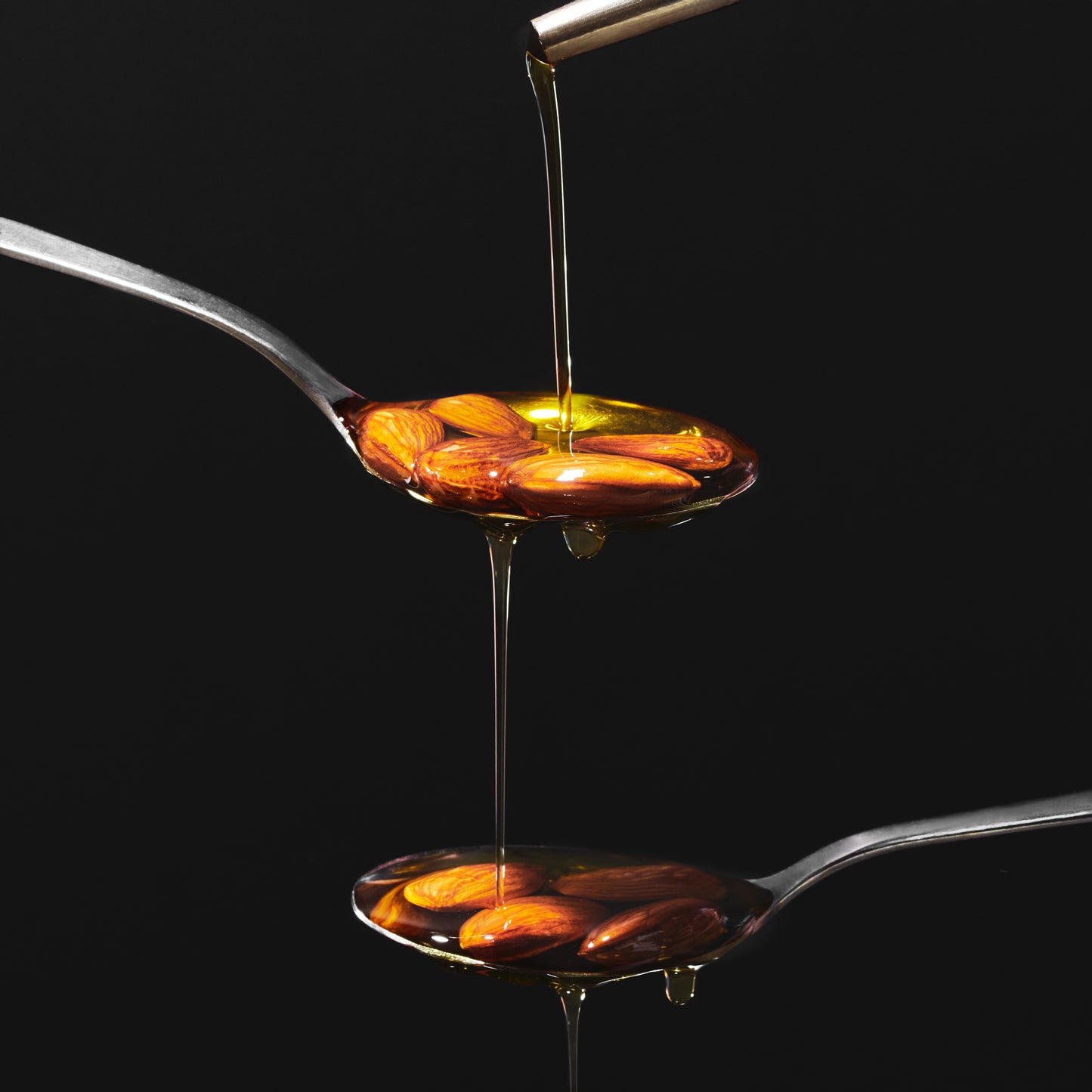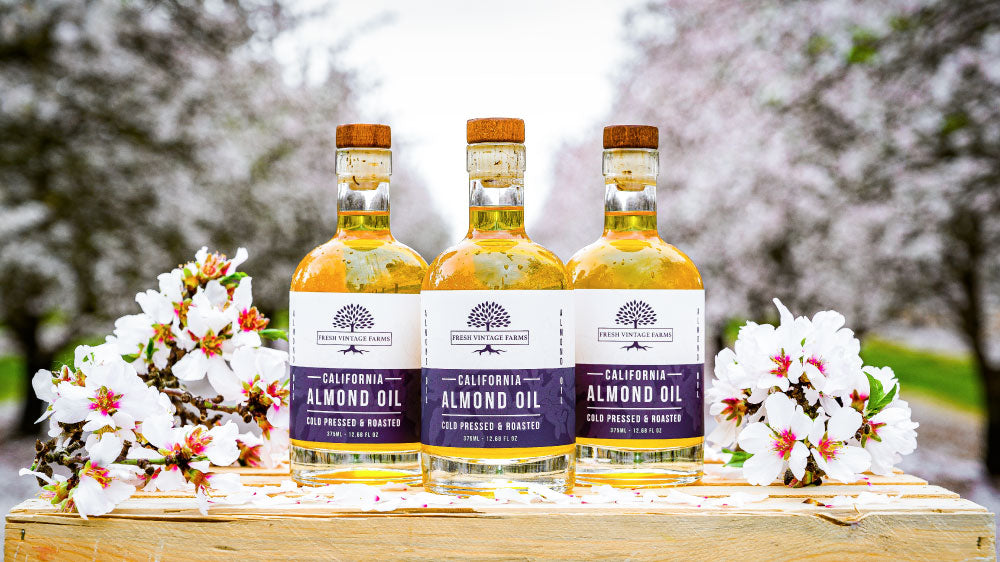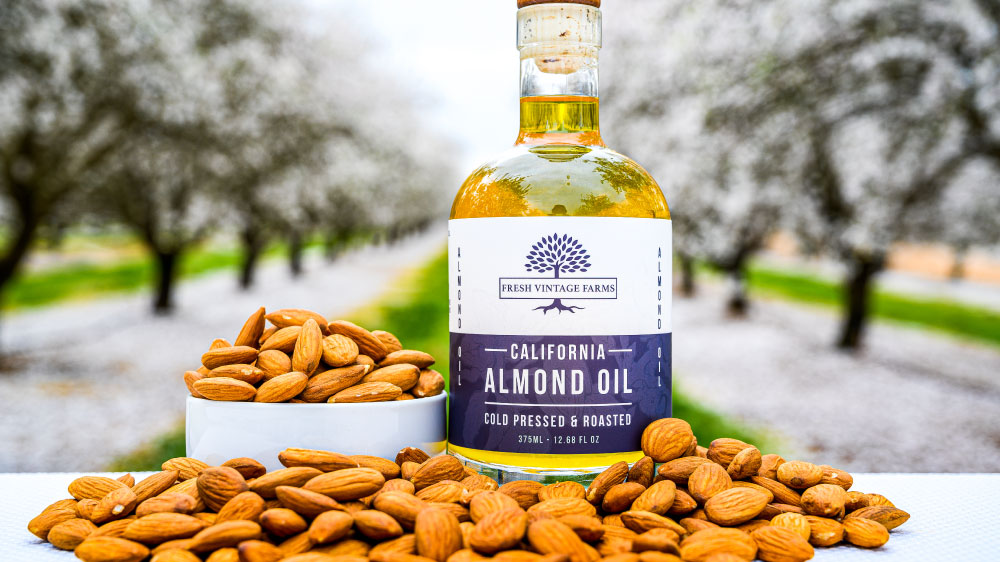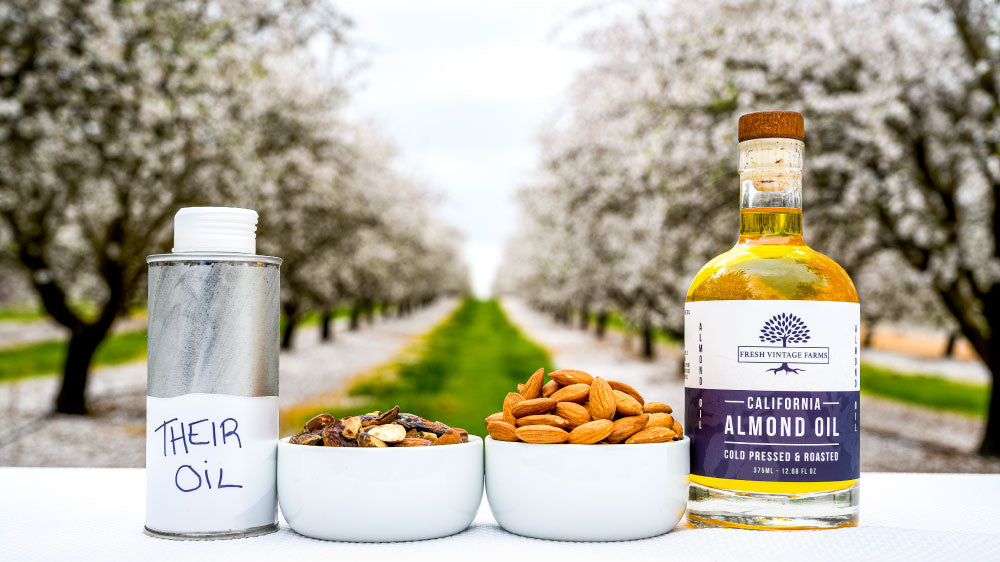 Super dupper
I can't rave enough about the almond oil. Being into organic i thank you for the way you process your oils. Super taste. Well worth a little extra $. Just received my Walnut oil order today too. Amazing. It's also top of the line. Keep up the good work and the way you process your oils. You have a life long customer.
F&cking Delicious!!!!
Awesome product, very impressed! Definitely will be stocking up!
Pure Cold Pressed Almond Oil (2 Pack)
Love the taste
I can't stand olive oil so I've stopped using it , this almond oil is insanely awesome... it goes well with everything !!!!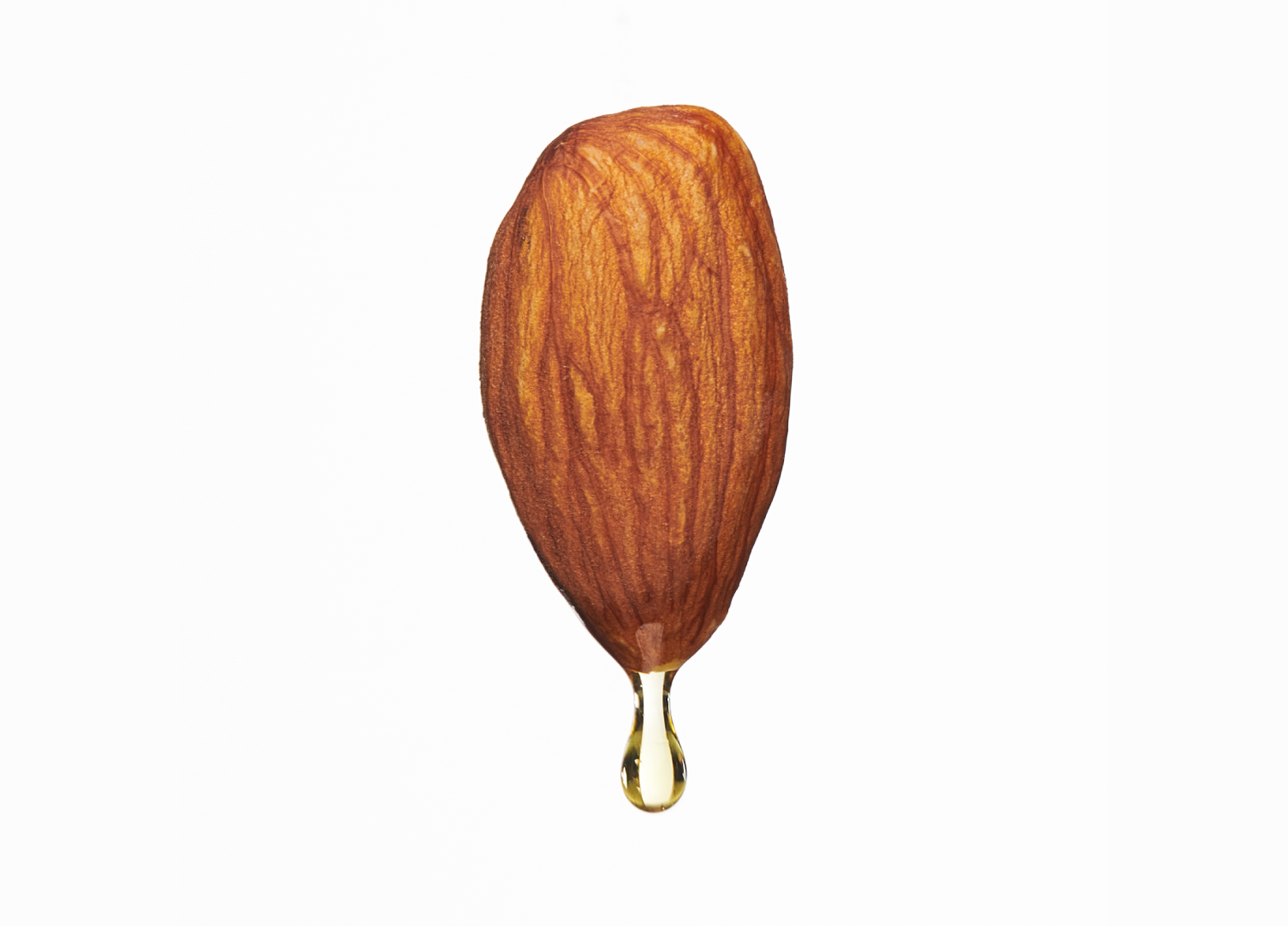 California Grown, California Made
All Fresh Vintage Farms products are made in the Central Valley of California, from local farms and farmers we know to be good stewards of their land.
Free Shipping on All 2 Packs

Order any 2 or 4 pack of our Almond or Walnut Oils and receive free shipping!